Verdadism Sculpture
"This Verdadism sculpture is dedicated to education and tolerance. It represents the abstract parts of the human mind with each shape representing a stage within the learning process. The figure at the bottom is that of the human soul learning about himself or herself through education...because through education, one does not only learn about oneself, one also learns about others...which, in turn, produces a deeper understanding of humanity."
Soraida Martinez
Copyright 1997
Size: approximately 18 feet high by 3.5 feet wide... Materials: sheet metal painted in Verdadism colors.
This Verdadism sculpture is specially-designed for a public building. For more information, please call 856-346-3131 or send a fax to 856-346-3251.
Artist, Soraida
220 South Berlin Road,
Lindenwold, New Jersey 08021    
Verdadism Gallery
Home page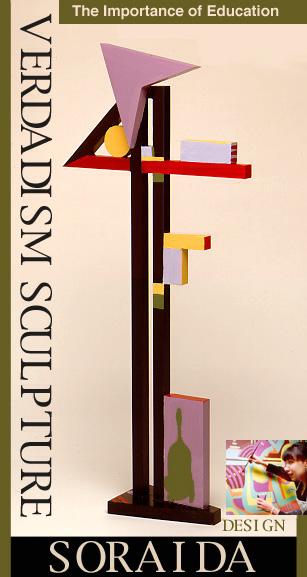 Copyright 1997
Soraida Martinez